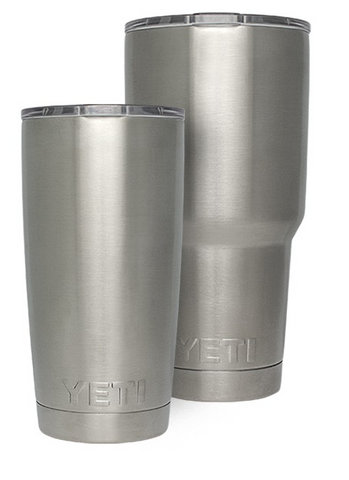 Yeti Rambler Tumblers
RAMBLER TUMBLERS
DETAILS
Don't you hate it when your favorite beverage loses its frosty (or piping hot) goodness before you have a chance to fully enjoy it? We sure do, and that's why we over-engineered our Rambler Tumblers with kitchen-grade 18/8 stainless steel and double-wall vacuum insulation. The result is a tough, hard-wearing personal drink cooler that maintains ice twice as long as plastic tumblers — and it works just as well for hot beverages. The lid that keeps your liquid in its place is easy to clean, shatter resistant and crystal clear so you know exactly how much of your drink you still have to look forward to. Dishwasher safe.
CARE 
- Wash before initial use. 
- Use only mild dish soap to clean - no bleach or abrasive cleaners. 
- Dishwasher safe. - Do not place in freezer. 
- For thorough cleaning, remove gasket from lid. Clean and dry before reinstalling.
WARNING 
- Do not place in microwave. Fire and personal injury can occur. 
- Hot beverages will stay hot for several hours. Use caution to prevent burns.
---
Please write a review:
Your rating:
Reviews: