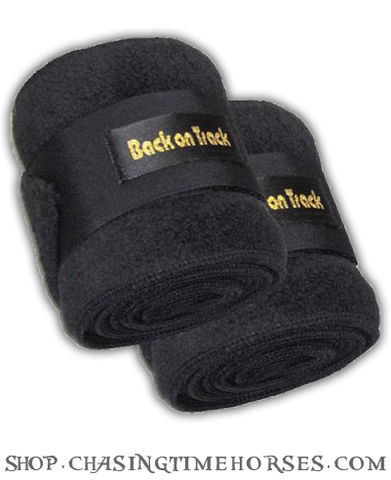 Polo Wraps
Polo Wraps Reflect Horse's Body Warmth, Produce Soft Warmth Therapy While You Ride

Our Polo Wraps are made our state-of-the-art fabric, which is infused with ceramic powder. The ceramic reflects your horse's natural body warmth and creates a soothing infrared thermal warmth. Warmth therapy is a well-recognized method used to relieve and heal injured ligaments, tendons and joints. When you wrap your horse's legs with these Polo Wraps, our unique fabric creates a gentle warmth, which reduces swelling and inflammation and keeps your horse's legs tight. Our Polo Wraps contain more elastic than traditional wraps so they contour to the leg better, provide excellent support, and don't shift or rub. They are also more durable.
We designed our Polo Wraps ONLY for use during exercise. They should not be used overnight or as a standing bandage as there is a risk they are fastened too tight and hinder blood flow. 
JULY PROMO: Purchase any saddle pad (excludes Contender II) – Dressage or All Purpose in colors black, white, navy, or brown or Western in black – and receive a pair of Black 9' Polo Wraps for FREE. Retail Value $43.00!
NO need to put the Polo Wraps in your shopping cart.  They will be added to your order when it is processed, therefore they will not show on your Order Confirmation.
Offer good through August 17th or while supplies last.

Not for use on pregnant mares.
Colors: Black or White. Sold in Pairs
Lengths: 7' (218 cm), 9' (standard) (280 cm) or 11' (320 cm) 
Care: Machine washable up to 86°F or 30°C. Use normal detergents that do not contain bleach or fabric softeners. Air dry only, do not tumble dry.
---
Please write a review:
Your rating:
Reviews: