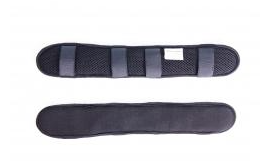 Pole Cover
Poll cover attaches to the halter or bridle with 4 straps.
Size: ONE SIZE - Cover measures 2" x 14"
Material: 65% Polyester, 30% Polyurethane, 5% polypropylene.
Color: Black
Care: Machine washable up to 86°F or 30°C. Use normal detergents that do not contain bleach or fabric softeners. Air dry only, do not tumble dry.
---
Please write a review:
Your rating:
Reviews: