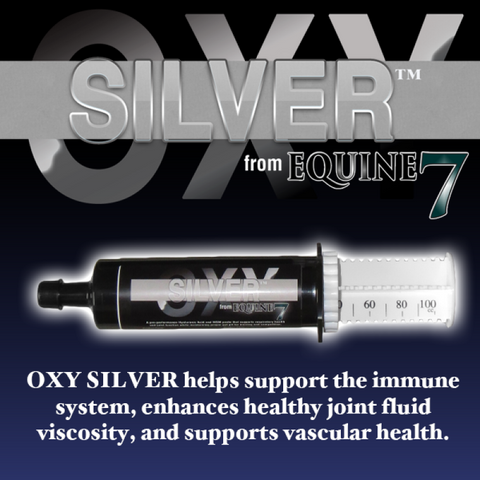 Oxy Silver
NATURAL  MULTI-DRUG REPLACEMENT!

PRE-PERFORMANCE PASTE FOR SENIOR ATHLETES PROVIDING JOINT, LUNG, ULCER AND ANTI-INFLAMMATORY PROTECTION
 
WHAT IS OXY SILVER™?
Oxy Silver™ is a pre-performance paste designed to help senior athletes competing in physically demanding activities perform their best by providing joint, lung, ulcer and anti-inflammatory protection natural and drug-free. It is designed to replicate the results derived from using pharmaceuticals such as Legend®, Ventipulmin®, and Dexamethasone.
WHO IS IT FOR?
Much like people, horses experience changing needs as they age and need help to do the work they love while looking and feeling their best. By supplementing your horse with a natural drug-free pre-performance paste, you can ensure that your senior horse is at its best and able to perform to its potential without experiencing negative side effects. Oxy Silver is safe to use on horses of all ages, but is designed especially for needs of the the Senior athlete.
WHAT ARE THE BENEFITS?
Oxy Silver™ is designed to replace the pharmaceuticals: Legend®, Ventipulmin®, and Dexamethasone while providing the same desired benefits without negative physical side effects. Oxy Silver™ eliminates having to use intramuscular, IV or direct joint needles or any off-putting feed additives that can disrupt the nutritional benefits of a healthy diet.
Oxy Silver is not intended to replace any products that are fed daily as a part of a comprehensive maintenance program. Oxy Silver is formulated to replace any pharmaceuticals that are used to assist and improve the performance level of any equine athlete.
WHAT RESULTS CAN I EXPECT FROM OXY SILVER?
Oxy Silver™ assists horses in breathing and lung performance equal to the results expected from using Ventipulmin® and provides the added benefits of an anti-inflammatory replacing the need for Dexamethasone. Oxy Silver™ also has joint health properties that provide protection by decreasing inflammation and the creation of destructive enzymes associated with inflammation that occur as a result of hauling and competing. Oxy Silver™ also protects the stomach from developing an ulcer condition and stops discomfort immediately while balancing the gut for optimal nutrient absorption and performance without any of the negative side effects that Omeprazole can cause.
---
ISN'T IT TIME FOR EQUINE-7?
---
GUARANTEED ANALYSIS
Crude Protein, min
 
Methionine, min
 

0.30%

Crude Fat, min
 

45.00%

Crude Fiber, max
 
Calcium, min
 
Calcium, max
 
Phosphorus, min
 
Salt, min
 
Salt, max
 
Magnesium, min
 
Potassium, min
 
Zinc, min
 

2125 ppm

Vitamin E, min
 

370 IU / lb

 

INGREDIENTS
Potassium Chloride, Magnesium Oxide, Magnesium Hydroxide, Omega 3 Fatty Acids, Salt, Calcium Citrate, Hyaluronic Acid (buffered), Zinc Methionine Complex, Magnesium Sulfate, Calcium Carbonate, Monosodium Phosphate, Citric Acid, Glycine, Glycerin, Maltodextrins, Carob Bean Powder, Magnesium Silicate, Dried Aspergillus niger Fermentation Product, Bacillus amyloliquefaciens Fermentation Product, Aspergillus oryzae Fermentation Product, Soybean Oil, Dried Propionibacterium freudenreichii Fermentation Product, Dried Lactobacillus acidophilus Fermentation Product, Dried Enterococcus lactis Fermentation Product, Trichoderma longibrachiatum Fermentation Extract, Dried Lactobacillus casei Fermentation Product, Dried Lactobacillus lactis Fermentation Product, Dried Pediococcus cerevisiae Fermentation Product, Dried Bacillus licheniformis Fermentation Product, Sodium Silico Aluminate, Guar Gum, Silica Aerogel, Wheat Germ Oil, Dried Active Yeast Cultures, Vitamin E Supplement, Natural and Artificial Flavors.

FEEDING DIRECTIONS:
For oral use only in horses.

Pre-performance Program: Feed 20cc orally two hours prior to competition. Each 100cc tube contains 5 feedings.
---
Please write a review:
Your rating:
Reviews: