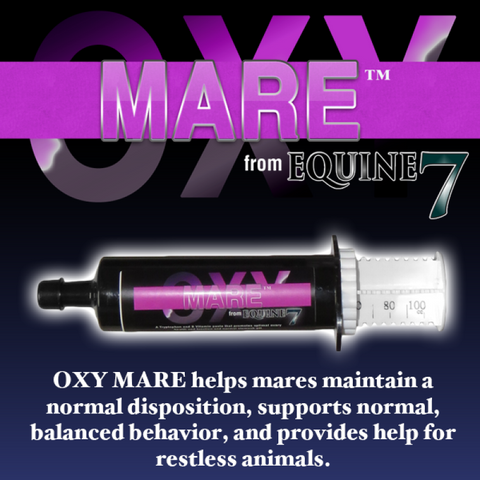 Oxy Mare
NATURAL REPLACEMENT FOR REGU-MATE®
RELIEVES UNWANTED BEHAVIORAL SYMPTOMS DURING ESTRUS CYCLES IN MARES
WHAT IS OXY-MARE?
Some horsemen try to keep mares out of heat during their show season, especially mares that have difficulty concentrating on their work when in heat, or mares that have problems with their cycles. Hormone therapy is often used to regulate or halt a mare's cycles. Bad behavior in young, in-heat mares can be due to immaturity, lack of training and experience. They can become obsessed with other horses; have a hard time concentrating on work, or ride like they are just looking for a fight. Oxy Mare™ can help ease those training issues by helping mares feel better by leveling out the estrus cycle.
WHAT DOES OXY-MARE OFFER?
Oxy Mare™ can help mares attain regular estrus cycles, shorten prolonged estrus, and allow for scheduled breeding of mares during the usual breeding season.
WHO IS IT FOR?
Oxy Mare™ is for mares of breeding age and is designed to replace the use of Regu-Mate®.
WHAT ARE THE BENEFITS?
Oxy Mare™ can effectively suppress estrus in mares ultimately improving performance. Oxy Mare™ is safe to handle and administer without fear of human contact side effects.
WHAT RESULTS CAN I EXPECT FROM OXY-MARE?
Oxy Mare™ can reduce undesirable changes in behavior and mood by suppressing your mare's estrus (heat) cycle.
GUARANTEED ANALYSIS
 

Crude Protein, min

 
 

Crude Fiber, max

 

Calcium, min

 

Calcium, max

 

Phosphorus, min

 

Salt, min

 

Salt, max

 

Magnesium, min

 

Potassium, min

 

Vitamin E, min

 
 
INGREDIENTS
Salt, Potassium Chloride, Magnesium Oxide, Calcium Carbonate, Thiamine Mononitrate, Tryptophan, Hydrolyzed Yeast, Wheat Germ Oil, Vitamin E Supplement, Choline Chloride, Dried Kelp, Fish Meal, Selenium Yeast, Soybean Oil, Biotin, Riboflavin Supplement, Vitamin A Acetate, Vitamin B12 Supplement, Folic Acid, Guar Gum, Xanthan Gum, Silica Aerogel, Peppermint Flavoring.
FEEDING INSTRUCTIONS
Loading Dose: Feed 20cc per day for three days when unwanted symptoms begin.
Maintenance: Feed 10cc per day during estrus cycle.
Pre-performance: Feed 20cc four hours prior to competition or training.
---
Please write a review:
Your rating:
Reviews: