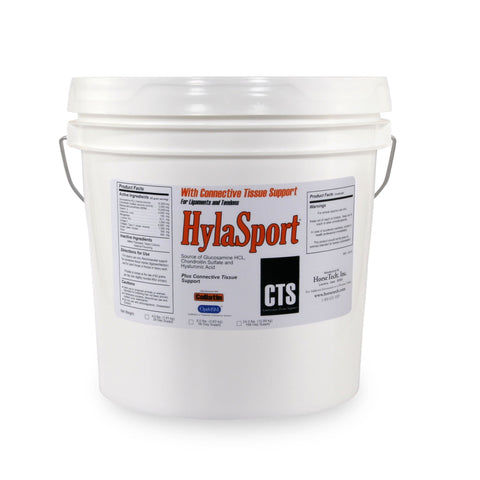 HylaSport CTS
HorseTech's original HylaSport OTC has been HorseTech's all-time best-selling equine product for joint support. Over the years, it has proven itself as one of the most potent products on the market providing a broad spectrum of support with significant levels of the key ingredients that our clients have been looking for. 

Now, we're offering HylaSport CTS with additional support for connective tissue--ligaments and tendons! In addition to the support provided in our original HylaSport product, (10,000 mg Glucosamine, 10,000 mg MSM, 2,000 mg Chondroitin Sulfate, 4,500 mg Vitamin C, 6,000 mg Omega-3 and 100 mg Hyaluronic Acid) our new HylaSport CTS provides 1,500 mg of Type II Collagen, 1,500 mg Lysine, 400 mg Silica and 300 mg Grape Seed Extract. We've utilized our famous food-grade flax base that provides 6,000 mg of natural Omega-3, and your horses will love the natural fenugreek flavoring! 

Use our HylaSport CTS for horses in heavy work or training. Also, a great choice for horses recovering from connective tissue injuries.
DIRECTIONS FOR USE
For equine use only. Recommended support for connective tissue (ligament and tendon) and for sport horses in heavy work.
Provide to horses at the rate of 65 grams per day (two slightly rounded 48cc scoops). May be used at reduced rate of one scoop per day for lighter breeds or where less support is required.
INGREDIENTS
ACTIVE INGREDIENTS

PER 65 GRAM SERVING

METHYLSUFONYLMETHANE (OPTIMSM®)

10,000 mg

GLUCOSAMINE (MARINE SOURCE)

10,000 mg

CHONDROITIN SULFATE (PORCINE SOURCE)

2,000 mg

HYALURONIC ACID

100 mg

MANGANESE (AMINO ACID COMPLEX)

16.5 mg

L-LYSINE HCL

1,500 mg

OMEGA-3

6,000 mg

COLLAGEN TYPE II (AVIAN SOURCE)

1,500 mg

GRAPE SEED EXTRACT

300 mg

SILICA
---
Please write a review:
Your rating:
Reviews: