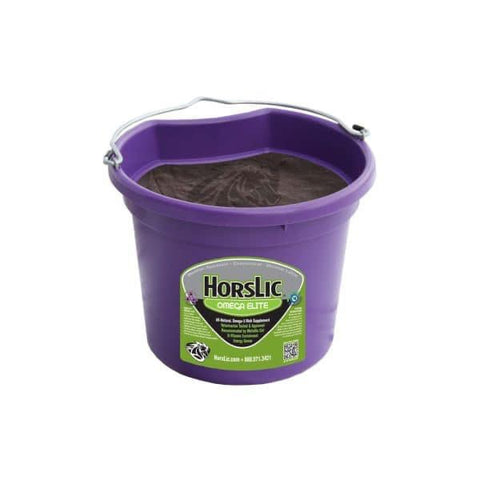 HorsLic Omega Elite "PICK UP ONLY"
HorsLic Omega Elite is a premium all-natural, low-moisture supplement that delivers essential omega-3 fatty acid benefits 24/7 for horses that need additional nutritional support, such as breeding stallions and mares, lactating mares and performance horses. HorsLic Omega Elite works in two ways–delivering optimum nutrients and providing Omega-3 supplementation.
Crude Protein Min

13%
Crude Fat Min

15%
Crude Fiber Max

3%
Calcium Min

1.6%
Calcium Max

2.1%
Phosphorus Min

0.7%
Magnesium Min

0.5%
Potasium Min

1.6%
Salt Min

3.5%
Salt Max

4.5%
Cobalt Min

1 ppm
Copper Min

150 ppm
Iodine Min

6 ppm
Manganese Min

600 ppm
Selenium Min

2 ppm
Zinc Min

600 ppm
Vitamin A Min

30,000 IU/lb
Vitamin C Min

250 mg/lb
Vitamin D Min

6,000 IU/lb
Vitamin E Min

1,000 IU/lb
Biotin Min

10 mg/lb
Riboflavin Min

20 mg/lb
Thiamin Min

50 mg/lb
Omega-3 Fatty Acids
The most concentrated level of omega-3 fatty acids to support rapid growth, reproduction, lactation, and top athletic performance.
B-Vitamin Enrichment
Higher levels of biotin, riboflavin, and thiamine for the athletic horse, rapidly growing foals, breeding stallions, and lactating mares.
Trace Element Sources
Mixture of inorganic and organic zinc, manganese, & copper for improved mineral absorption and optimization of hindgut digestion.
Yeast Concentrate
Diamond-V XPC yeast concentrate included as an added source of B-vitamins and other nutrients.
Energy Dense
Maximum oil content provides greater energy density to support lactation and strenuous activity demanded of competition horses.
Amino Acid Fortification
Enriched with lysine to support rapid muscle growth and recovery from strenuous physical activity.
Antioxidants
Enriched with our most concentrated source of vitamins A and C and natural flaxseed lignans and molasses melanoidins as antioxidants for intense competition, rapid growth and lactation.
Electrolytes
Highest levels of electrolytes for horses in competition or heavy lactation.
---
Please write a review:
Your rating:
Reviews: