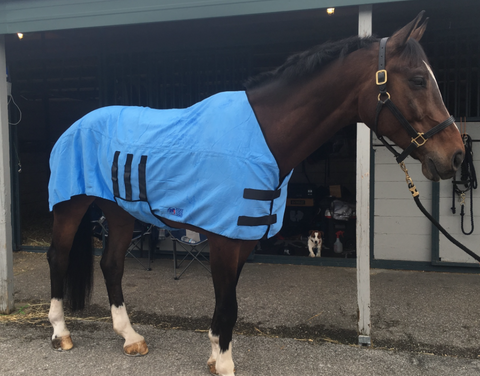 Equine Deluxe Body Wrap
COMPLETE BODY COOLING.  We've taken our popular Equine Body Wrap and super-size it – covering more than ever before.  The body portion has been increased from 60″ x 63″ to 67″ x 82″ and we've added a chest flap and a removable belly flap!  What more can a horse ask for?
Product Description
Fits up to 18-Hand Horses!
Cool your horse's core temperature quickly with Equi Cool Down's body wraps. Ideal for recreational riders who want to improve their horse's comfort. Excellent for competition riders who need rapid stabilization of core temperature to give their horse a more competitive edge due to quicker recovery from exertion. PERFECT for horses suffering from Anhidrosis ("No-Sweaters") and other heat-related problems. The versatile "one-size-fits-most" design of these body wraps is achieved using flexible and adjustable leg and chest straps. Their design ensures that the body wrap will be held in place while still enabling your horse to move around with minimal restraint.
May significantly alleviate symptoms arising from Laminitis, Allergies, Thermoregulation, Cushings Disease & Inflammatory Airway Disease.
The revolutionary Equi Cool Down wraps will put an end to the days of continuous hosing and scraping. To activate the cooling mechanism, simply spray with water and wave! The wraps contain NO gel, NO beads or crystals, NO frozen inserts, NO electricity needed. Equi Cool Down wraps gently cools effected areas, eliminating the risk of tissue damage from extreme cold. If the wrap feels warm to the touch after a few minutes, that simply means it is working! To reactivate the cooling the process, spray the wrap with water, warm or cold, and walk horse or flap sides to infuse air flow. It is THAT easy.
Equi Cool Down wraps are safe to place directly on your horse. No cover or sock is needed to keep the wrap debris free. If it gets dirty, simply hose it down, hand-wash or even put in your washing machine with a mild detergent. Use over and over again; Equi Cool Down wraps will still get cold!
On a trail ride not even remotely close to a hose? Trailering your horse? Any source of any temperature water will work; a pond, a well, a swimming pool – just fill a spray bottle and spray the wrap down. Keeping the wrap wet is the key to all-day coolness. These wraps are truly the most innovative product to hit the equine market!
 Product
Dimensions

Packaging
Dimensions

 67″ x 82″

 18″ x 16″ x 3″
Before using your new Equi Cool Down products on yourself or your horse, please be sure to read our instructions for use below and watch our care & use video for maximum benefits. This will ensure that the products have sufficient water to do their job and keep you and your horse cool, while allowing circulation and not becoming over-saturated which can actually inhibit air flow and cooling effect. If you have any questions, please contact us. 
Instruction for use
Equestrians know, when we ask our horse for their best performance, they usually work up quite a sweat in the process. Whether you're out trail riding, performing at your best in the show ring, or simply working in a training arena, your horse's body temperature will rise as exertion levels increase. Just like with human athletes, allowing the horse's body time to cool down is crucial. Heat hurts, and getting rid of this heat will keep your horse happy and healthy. With Equi Cool Down, it's never been easier to help cool your horse down.
Equi Cool Down textile technology uses an advanced hyper-evaporative material, which when activated will drop up to 22° colder than the outside temperature. Cool your horse down, minimize heat and inflammation, or ease post-injection swelling relief with Equi Cool Down's state of the art range of body wraps, leg wraps, and neck wraps.
The versatile "one-size-fits-most" design uses adjustable and flexible chest and leg straps. These allow your horse comfortable movement without the fear of the wraps falling off. Simply spray the wraps down with water, wave it through the air to activate the air flow and the cooling process. If your horse is already wearing them, wet the wraps with water and walk your horse around to reactive the cooling mechanism.
Equi Cool Down wraps do not require refrigeration. The reusable wraps can also be hand washed or machine washed. Cool downs have never been so easy!
---
Please write a review:
Your rating:
Reviews: