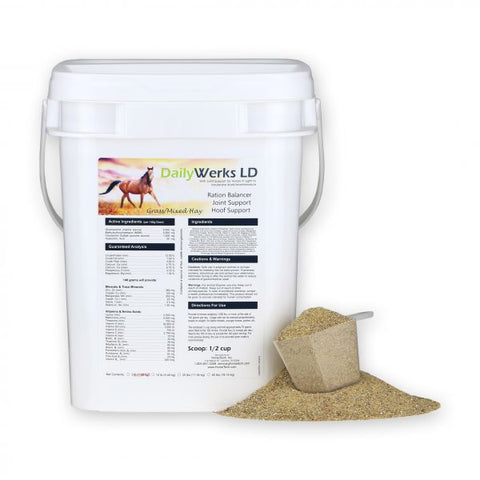 DailyWerks LD
HorseTech's DailyWerks LD is the perfect combination for horse owners looking for a daily ration balancer that also provides substantial support for healthy hooves and joints. DailyWerks LD provides a full serving of our popular High Point Grass/Mixed Hay product along with a light duty/maintenance dose of the active ingredients in our HylaSport OTC. In addition, we've incorporated a hoof support package which includes a full 30 mg of biotin - just like our popular Glänzen 3 or BioFlax Ultra product! All of this in one simple, palatable and economic package. Your satisfaction is fully guaranteed. Try it today! Always free shipping to the lower 48 states!
For those looking for a similar product with the full dose of active ingredients from HylaSport OTC, see our DailyWerks HD! 
Directions for Use
Provide to horses weighing 1,000 lbs., or more, at the rate of 140 grams per day. Usage rate can be reduced proportionately, based on weight, for lighter breeds, younger horses, ponies, etc.
The enclosed 1/2 cup scoop will hold approximately 70 grams when filled to the 100 ml line. Provide two (2) scoops per day--filled to the 100 ml line--to provide the 140 gram serving. For more precise dosing, the use of an accurate gram scale is recommended. 
Ingredients
| | |
| --- | --- |
| Active Ingredient | Per 140 gram Serving |
| Glucosamine (marine source) | 5,000 mg |
| Methylsufonylmethane (MSM) | 5,000 mg |
| Chondroitin Sulfate (porcine source) | 1,000 mg |
| Hyaluronic Acid | 50 mg |
| | |
| --- | --- |
| DailyWerks HD | Guaranteed Analysis |
| Crude Protein (min) | 12.00% |
| Crude Fat (min) | 1.00% |
| Crude Fiber (max) | 3.00% |
| Calcium, Ca (min) | 4.75% |
| Calcium, Ca (max) | 6.75% |
| Phosphorus, P (min) | 3.75% |
| Magnesium, Mg (min) | 1.30% |
| | |
| --- | --- |
| Minerals & Trace Minerals | Per 140 gram Serving |
| Zinc, Zn (min) | 360 mg |
| Copper, Cu (min) | 125 mg |
| Manganese, Mn (min) | 200 mg |
| Cobalt, Co (min) | 25 mg |
| Iodine, I (min) | 2.0 mg |
| Selenium, Se (min) | 1.50 mg |
| | |
| --- | --- |
| Vitamins & Amino Acids | Per 140 gram Serving |
| Lysine (min) | 2,500 mg |
| Methionine (min) | 4,500 mg |
| Threonine (min) | 750 mg |
| Vitamin A (min) | 30,000 IU |
| Vitamin D3 (min) | 3,000 IU |
| Vitamin E (min) | 750 IU |
| Vitamin C (min) | 2,750 IU |
| Vitamin K (min) | 10 mg |
| Biotin, B7 (min) | 30 mg |
| Thiamine, B1 (min) | 30 mg |
| Riboflavin, B2 (min) | 40 mg |
| Niacin, B3 (min) | 90 mg |
| Pantothenic Acid, B5 (min) | 35 mg |
| Pyridoxine, B6 (min) | 35 mg |
| Folic Acid, B9 (min) | 25 mg |
| Vitamin B12 (min) | 300 mcg |
| Probiotics | Yes |
| Prebiotics | Yes |
| Flavoring | Molasses, Natural, Non-Sugar |
| WSC (Water Soluble Carbohydrates) | 8.0% as Sampled |
| ESC (Simple Sugars) | 2.0% as Sampled |
| Starch | 5.2% as Sampled |
Distillers Dried Grains, Dicalcium Phosphate, Yeast Culture (saccharomyces cerevisiae), Zinc Amino Acid Complex, Copper Amino Acid Complex, Manganese Amino Acid Complex, Dosium Chloride, Vitamin A, Vitamin D3, Magesium Oxide, Selenium Yeast, L-Lysine, Calcium Iodate, Calcium Carbonate, d-Alpha Tocopheryl (Natural Vitamin E), DL-Methionine, Ascorbic Acid (Source of Vitamin C), L-Threonine, Calcium Citrate (Source of Silica), Thiamine, Riboflavin, Pyridoxine HCL (Vitamin B6), Biotin, Folic Acid, d-Calcium Pantothenate, Vitamin B12 Supplement, Niacin, Fructooligosaccharides, Mannanoligosaccharides, Dried Bacillus coagulans fermentation product, Dried Bacillus licheniformis fermentation product, Dried Bacillus subtilis fermentation product, Dried Lactobacillus acidophilus fermentation product, Dried Lactobacillus casei fermentation product, Dried Lactobacillus plantarum fermentation product, Dried enterococcus faecium fermentation product, Natural Flavorings, Natural Mixed Tocopherols (Antioxidant)
---
Please write a review:
Your rating:
Reviews: