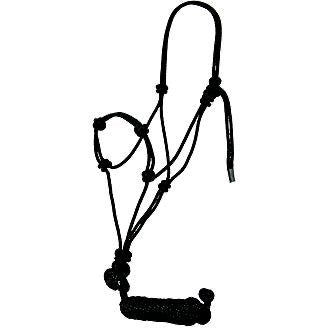 Black Knotted Training Halter
Knotted Roper Training Halter
A poly braid with four knots across the nose and including a 12' lead makes this an ideal training halter. The knots provide pressure when needed to correct behavior. It's made from a continuous peice of poly-braided rope, which is rot-resistant and hardware-free.
Features:
1/4" diamond braided rope halter
4-knot noseband
5/8" x 12' nylon lead
Continuous piece with no hardware
Item Specifications:
Size:
Fits Average Horses 800-1100lb.
---
Please write a review:
Your rating:
Reviews: