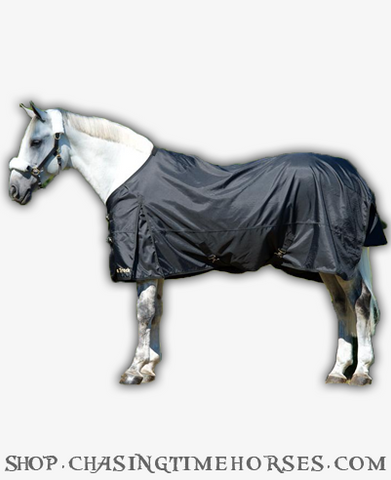 Turn-Out Sheet
The new Back on Track TURNOUT Sheet has a superb fit with a walking split to give the horse the utmost range of freedom in the shoulder.
It is waterproof  and is 1680 denier, so extremely strong to use for turnout and keeping your horse dry and warm. This unique sheet comes with a tail flap, adjustable surcingles and elastic leg ties to ensure it stays in place during rolling and playing.
Instructions for Use
Back on Track blankets should be introduced gradually. We recommend you start by using them for 2-4 hours for the first 3-4 days and then leave them on overnight for best results.   After 3-4 weeks use them for 3-6 days a week and you will see what a difference it makes for your horse.
Please note that physical responses can be variable.
Often you will notice a reduction of muscular stiffness within a few hours or days. Occasionally, however, you will need to persevere for 10 days to 30 days, particularly with established long-term injuries.
For best results, leave sheet on overnight after introductory period or let your horse wear it prior to exercise to help muscles warm up. 
Sheet includes: chest buckles, walking split, adjustable surcingles, elastic leg strap and a tail flap.1680 Denier
Sizes: 72", 75", 78", 81", 84" and 87"
Color: Black
Material: Exterior - polyester; Interior - polypropylene blend infused with ceramic powder. 1680 Denier 
Care: Machine washable up to 86°F or 30°C. Use normal detergents that do not contain bleach or fabric softeners. Air dry only, do not tumble dry.
---
Please write a review:
Your rating:
Reviews: